May CalFresh Awareness Month
May CalFresh Awareness Campaign
CalFresh Awareness Month started in May 2011 and is the official month dedicated to increasing awareness of CalFresh throughout California. Each year, the State, Alameda County Social Services Agency, the Alameda County Community Food Bank, and community-based organizations are committed to bringing awareness, dispelling myths, and assisting residents with CalFresh applications.
May 2021 CalFresh Awareness Campaign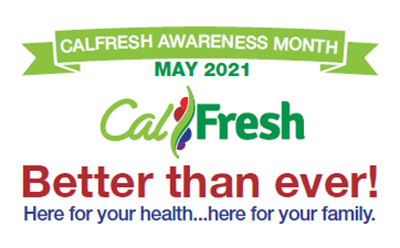 This year's CalFresh Awareness Theme is "CalFresh - Better than ever! Here for your health... here for your family." The campaign is focused on the many ways CalFresh has gotten better over the past year and how CalFresh continues to provide Alameda County residents with access to fresh, healthy foods. Some of these improvements just over the past year include:
CalFresh Emergency Allotments that raise each household's CalFresh benefit to the maximum allowable or by at least $95;
Temporary 15% CalFresh benefit increase for all CalFresh households;
Suspension of the Able-Bodied Adult Without Dependents (ABAWD) time limit;
Temporarily expanded student eligibility for students eligible for Work Study or have a $0 expected family contribution;
Excluding federal COVID-19 assistance benefits, such as the federal stimulus checks and EDD Pandemic Unemployment Compensation benefits, from being counted in the CalFresh budget;
Implementation of EBT online purchasing through Amazon, Walmart, and participating Safeway locations;
Temporary interview and signature waiver for qualifying households;
Expanded telephonic and electronic signature access; and
Expanded remote access options.
To learn more about the CalFresh program, click here.
If you would like to apply for CalFresh or have any questions, call to speak with an Eligibility Services Technician or visit one of our office locations.


To apply for CalFresh online, visit www.MyBenefitsCalWIN.org or www.GetCalFresh.org.
To apply for CalFresh via telephone, call (510) 272-3663.
To apply for CalFresh by fax, send your application to (510) 670-5095.
To apply for CalFresh in-person, visit one of our office locations.
To speak with an Eligibility Services Technician about any questions you have, call (510) 263-2420 -5347 or 1(888) 999-4772.