Thursday, October 20, 2022 - 10:20 AM
The Great California ShakeOut
At your workplace or home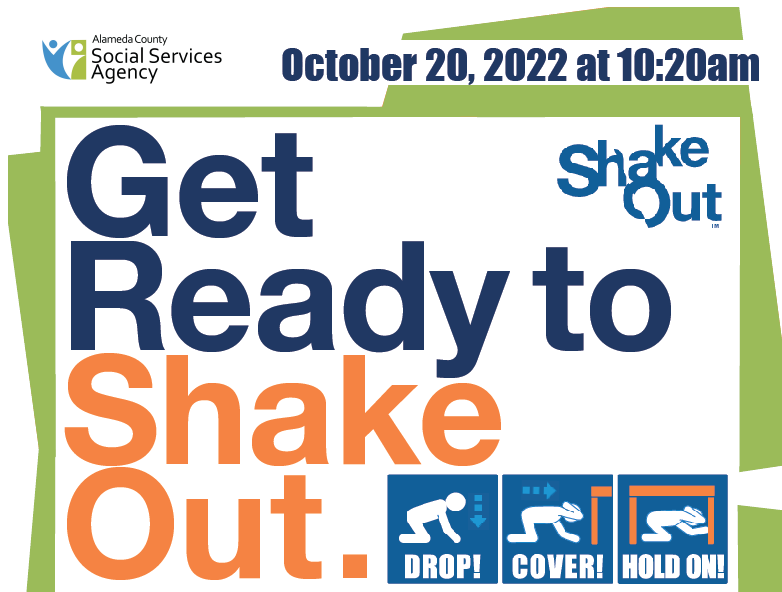 The Great California ShakeOut is Fast Approaching, October 20, 2022 at 10:20AM!
It is extremely important that everyone, everywhere know how to protect themselves during an earthquake—whether working from home or at the office! The Great California ShakeOut is an opportunity to practice. Are you ready to 'Drop, Cover, and Hold On'?
As many of us know, earthquakes in California are not a matter of if, but when. The most recent U.S. Geological Survey reported a 72% probability of a magnitude 6.7 or greater earthquake occurring by the year 2043 in the San Francisco Bay Region.
The Alameda County Social Services Agency's Government and Community Relations (GCR), Office of Disaster Preparedness and Emergency Management (DPEM) invites you to support and participate in the largest worldwide earthquake drill on October 20 at 10:20AM. Over 29 million people participated in 2021!. The drill will last for one minute. Drop, Cover, and Hold On!
Earthquake Preparedness Resources:
Earthquake Safety Video
https://www.ready.gov/earthquakes